Swage Nipple/Pipe Swage
SWAGE NIPPLES, CONCENTRIC SWAGE, ECCENTRIC SWAGE, NPT/BSPT THREADED SWAGE NIPPLES MANUFACTURER
MSS-SP-95 STANDARD, ASME B16.11, BS 3799, ASTM A105, A350-LF2, A106, A312, A234, A403, A182 (F304/304L, F316/316L)
HIGH QUALITY STAINLESS STEEL SWAGE NIPPLES, CARBON STEEL/ALLOY STEEL SWAGE NIPPLES MANUFACTURER IN INDIA
Concentri Swage, Eccentric Swage, NPT Threaded Swage Nipples, BSPT Threaded Swage Nipples, Line Pipe Swages, Swage Nipple Suppliers in India, Threaded Swage Nipples, Swage Nipple Exporters, Concentric Swage Nipple, Eccentric Swage Nipples, Swaged Nipple Suppliers, Stainless Steel Socket Weld Swage Nipple, A105N Swage Nipples, A182 Swage Nipples,Stainless Steel 304 Swage Nipples, Stainless Steel 316 Swage Nipples, Inconel Swage Nipples, Monel Swage Nipples, Hastelloy Swage Nipples, Swage Nipples with Threaded Ends, Swage Nipples with Plain Ends, Swage Nipples with Bevel Ends, Hot Dip Galvanized Swages
All swage nipples manufactured by New Seas Alloys L.L.P.are either manufactured from seamless pipe or bar material and have suitable working pressure equivalent to straight seamless pipes. We use high quality raw materials (steel pipes, bar stock) for manufacturing stainless steel swage nipples and carbon steel swage nipples. The raw materials we use are fully traceable to the mill source through our MTR reports. Our products are manufactured as per customer specifications and in accordance with international standards including American Standard (ASTM/ANSI), the British Standard (BS), and the DIN/European standard. NPT threads on Swage Nipples conform to ANSI/ASME B1.20.1.
An ISO 9001:2015 Certified Company,New Seas Alloys L.L.P.is experts in manufacturing swage nipples in India. Swage Nipples are manufactured accordance with MSS-SP-95 (Design Specification), ASME BS 3799, ASTM A105, A350-LF2, A106, A312, A234, A403, ASTM A182 (F304, F304L, F316, F316L). Swages or Swage Nipples are a type of pipe connection fitting used to go from one size tubing or casing to another. Some of the common grade swage nipples we manufacture include A234-WPB, A403-WP316, A403-WP304, and A420-WPL6 in size range of 1/4″ through to 8″ forconcentric swage nipplesand 1/4″ to 4" for eccentric swage nipples. We can offer Swage Nipples with plain, beveled or threaded ends. Thickness and outside diameters of swage nipples shall correspond to those of the appropriate nominal pipe size. Swage nipples are offered in threaded ends per ASME B1.20.1 and beveled ends per ASME B16.25.
Swage Nipples MSS-SP-95 Design Specification – Dimensional Standard for Stainless Steel, Carbon Steel, Alloy Steel Swage Nipples
Swage Nipples BS3799 Design Specification – Dimensional Standard for Stainless Steel, Carbon Steel, Alloy Steel Swage Nipples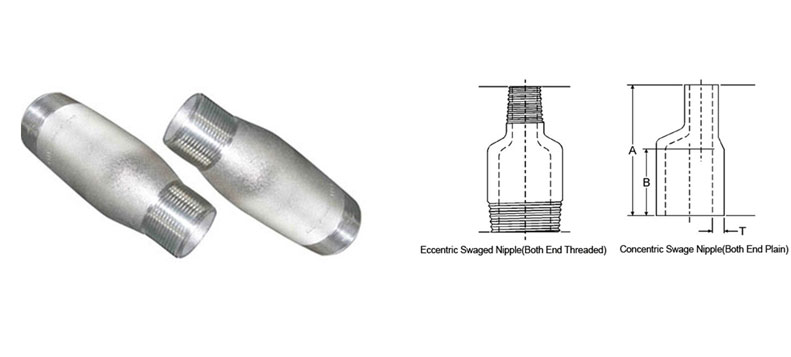 We can offer electro-galvanized coating, blackodising finish, sand blasting, or pickled finish in case of stainless steel swage nipples.
Our swage nipple products are supplied with EN 10204 3.1 Test Certification, with complete details on the chemical and physical properties of the materials. They are permanently marked with size, schedule, grade, and heat code.
All our products are manufactured with high quality raw materials and supplied to our customers with complete guarantee and certifications.
Swage Nipples Production Range, Specifications – Stainless Steel, Carbon Steel, Alloy Steel Swage Nipples
Size
1/8" to 8", DN8 to DN200
Type
Concentric Swage Nipples, Eccentric Swage Nipples
Dimensions
MSS SP-95-2006, BS 3799
Raw Materials
A106 Gr. B Seamless Pipes, A105/A105N Bars, A182 304/304L Bars, A182 316/316L Bars, A312 304/304L Seamless Pipes, Duplex Seamless Pipes, A312 316/316L Seamless Pipes, A350-LF2, Alloy Steel Seamless Pipes/Bars
Material Specifications
ASTM A105, A350 LF2, ASTM A182 (F304,F304L,F316,F316L,F304H,F316H,F317L,F321,F11,F22,F91)
Connection Ends
PBE: Plain both ends, BBE: Bevel both ends, TBE: Thread both ends
PSE: Plain small end, BSE: Bevel small end, TSE: Thread small end
PLE: Plain large end, BLE: Bevel large end, TLE: Thread large end
Thickness: Standard, Extra Heavy, Schedule 160, or Double Extra Heavy
Ends
Beveled, Square Cut (for socket-weld), NPT/BSPT/BSP Threaded Swages, Customer Specification
Test Certificates
EN 10204 3.1, Raw Material Certificates Available, Destructive & Non Destructive Testing (NDT) Reports from NABL Approved Labs
Material Finish
Electro-Galvanized Coating, Black Finish, Blackodising Finish, Sand Blasting, or Pickled Finish in case of Stainless Steel Swage Nipples
Quality Assurance – Swage Nipples
At New Seas Alloys L.L.P. Piping, all swage nipples are tested and are subject to strict inspection at each stage of the production process, from raw material purchasing to product dispatch. All raw material used in the manufacture of swage nipples are tested to ensure compliance with international standards and customer requirements.
Testing and Inspection of Swage Nipples
Manufacturer Test Certificate as per EN 10204 / 3.1B, Raw Materials Certificate, Third Party Inspection, Buyer Inspection